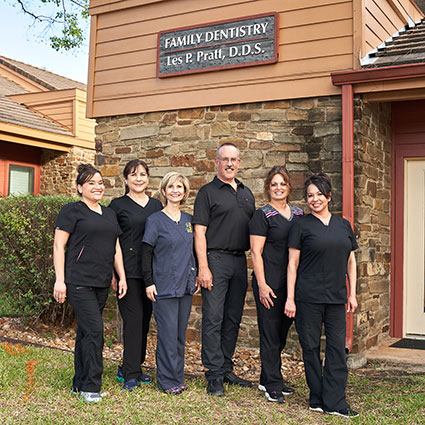 About Les P. Pratt DDS
From the moment a new or existing patient steps foot inside the Les P. Pratt DDS office, we have one goal in mind: to help you feel comfortable, respected and like a part of our dental family.
We want to know about you and your concerns. We know that communication is key to building a trusting relationship with your healthcare provider and our dental team is here to help you. Just let us know how we can help.
Dentistry for Every Age
Dr. Pratt and our dental team are proud to have served multiple generations for over 25 years. We welcome patients from toddlers to seniors and everyone in between. In fact, many of our patients have grown up in our practice and we are now seeing their children. We truly see our patients as family and look forward to seeing them at their regular dental visits.
An Honest, Effective Care Plan
We understand how difficult it can be to choose the right dental provider. Many patients haven't had the best experiences in the past with other dental offices and many wonder if you are making an appointment with a dentist who is going to help you with your dental concerns or a used car salesperson with high pressure sales techniques.
Whether it's a hygiene appointment or full smile restoration, we can reassure you that Dr. Pratt and our dental team will listen to your concerns and explain dental treatment options in a way you can understand so you can make a confident decision on the treatment options presented to you. Our goal is for you to be so happy with your decision to have your dental needs met by Dr. Pratt and our team that you are beaming with a stunning smile that you share with everyone.
MEET DR. PRATT
Get to Know Dr. Pratt
We look forward to meeting you and your dental needs. Contact the team today to learn more about how Dr. Pratt can help! He can't wait to get started!

About Les P. Pratt DDS | (210) 349-2120