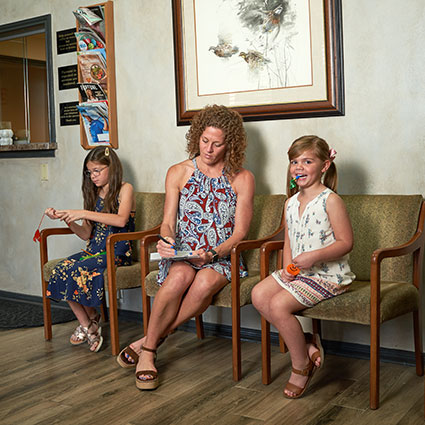 New Patients at Les P. Pratt DDS
Dr. Pratt and team are thrilled to welcome you into our practice and can't wait to get started with helping you achieve your smile goals. Here, reliable and sincere care are virtues. Dr. Pratt and our dental team aim to not only listen to your concerns, but we want to build a relationship with you that will turn into a long lasting friendship while always providing you with trustworthy dental care.
Upon entering our practice, It is the goal of every staff member to make sure you feel relaxed, comfortable and at ease. We feel the best way to do that is to get to know you, not just your mouth. So, lets get started with a great conversation, which will lead to a great smile.
The First Visit
Before you arrive at our office for your first visit, we will send you new patient forms to complete online if you have access to the internet. If you don't, you can always arrive 10 to 15 minutes prior to your appointment time to complete the forms. We hope to have received your dental benefit information on your initial phone call or by text. Receiving this information prior to your appointment will allow us to verify your benefits which will help us provide you with an estimate of any financial obligation before any services are performed.
Upon arrival to our office, you will be greeted by our front office staff. They will inform you if any additional information is needed and they will be able to help you with any questions or concerns you may have about your dental benefits or financial obligations.
Promptly, you will be welcomed by one of our clinical staff, either a hygienist, the dental assistant or Dr. Pratt. They will show you to a treatment room and make sure you are comfortable. Our clinical staff takes pride in running on time. In fact, patients rarely have to wait more than a few minutes to be seen.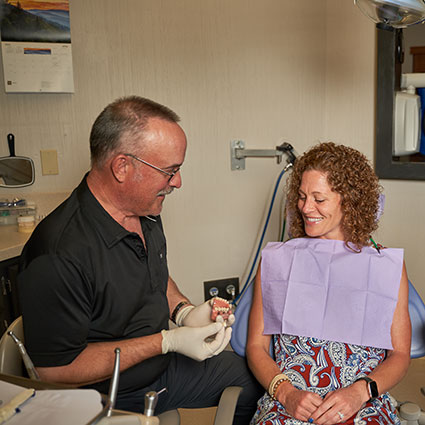 Once you are comfortable in the dental chair, the hygienist or dental assistant will record your health history and get to know you and your goals. If your appointment is for a cleaning, x-rays may be taken before the cleaning begins. Dr. Pratt will also meet with you during your hygiene visit to examine your mouth and hear your concerns.
If your visit is for a specific dental concern, the dental assistant may need to take an x-ray of the area of concern. Dr. Pratt will need this x-ray to help in his diagnosis and to explain the condition to you. He will examine the area of concern and the treatment plan options he recommends will be presented to you along with a estimate of financial responsibility.
Dr. Pratt and our dental team want you to be informed and educated about your dental care and treatments. Please do not hesitate to ask questions. We are here to help you and after all, it is your smile!
Discover a Beautiful, Healthy Smile
A healthy smile helps keep a body healthy. The benefits of a healthy smile include:
Releases endorphins
Alleviates stress
Reduces blood pressure
Strengthens immune system
Increases endurance
Reduces pain
Boosts mood
Reduces risk of heart disease
Strengthens relationships
Relieves anxiety
Correlates to a longer life
(Sources available at: auraglow.com/blogs/articles/benefits-of-smiling)
Our goal is to help you keep your smile healthy!!!
We look forward to seeing you at your regular dental cleaning. Please call or text our office to schedule your appointment.
CONTACT US

New Patients at Les P. Pratt DDS | (210) 349-2120