Dental Bridges in North Central San Antonio
Bridges are a prosthetic device that is permanently placed in your mouth to replace a missing tooth or multiple missing teeth.
A bridge consists of one or more prosthetic teeth, which replaces any missing teeth, which are anchored onto surrounding teeth. A bridge is beneficial to replace missing or extracted teeth, to prevent existing teeth from shifting or rotating, to maintain your bite structure and improve chewing and for cosmetic enhancement.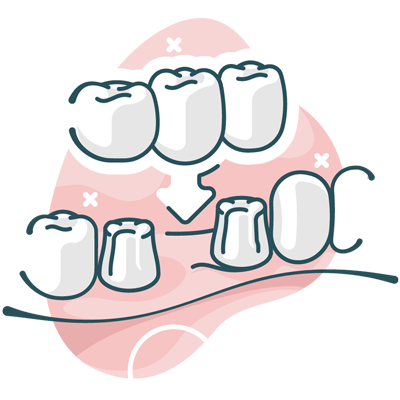 What to Expect
After you and Dr. Pratt discuss all the options of replacing missing teeth and have determined that a bridge is the right treatment option for you, you will schedule two appointments. At the first visit, Dr. Pratt will ensure that you are comfortable by anesthetizing the area before he begins preparing two teeth for the bridge placement. Impressions of the area will be taken and a temporary bridge will be placed.
Bridges, like crowns, are crafted at a dental lab, where highly skilled technicians, who are true artists, will craft the bridge using advanced techniques and materials to ensure that your bridge will function correctly and look natural.
Approximately, 10 working days after your first appointment, Dr. Pratt will be ready to place your new bridge upon your approval. Once permanently cemented, our dental team will educate you on the care of your new bridge which should last you many years.
Learn More Today
Wondering if bridges are the perfect option? Dr. Pratt is happy to help patients decide on their custom care plan to restore their smile. Discover the many different cosmetic and restorative options designed to bring function and aesthetics back to smiles.
Learn more today by contacting the practice to book an appointment. The entire team looks forward to welcoming new patients into the office!
CONTACT US


Dental Bridges in North Central San Antonio, 78216, San Antonio TX | (210) 349-2120