Dental Crowns in North Central San Antonio
A dental crown is a prosthetic device that is permanently placed in your mouth to protect a tooth. A crown may be recommended if the tooth was chipped or damaged, the tooth has had extensive fillings that require extra support, the tooth has had a root canal or for cosmetic reasons.
A crown in designed to improve the look and function of the tooth while preserving as much of the natural tooth as possible. Dr. Pratt always takes the most conservative approach to dentistry possible with his patients, and will only recommend treatment to you if he believes it is the best option for care and achieving your goals.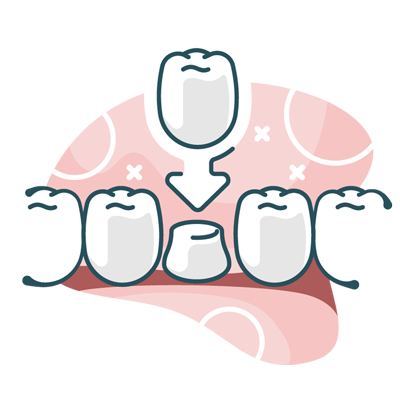 What to Expect
Dr. Pratt aims to make you a partner in your oral healthcare, educating you along the way so that you have the tools and knowledge to make decisions on recommended treatment.
Once you and Dr. Pratt have discussed and have decided a crown is the right treatment for you, Dr. Pratt will make the process as simple and uncomplicated as possible. The procedure requires two visits. During the first visit, Dr. Pratt will make sure you are comfortable by anesthetizing the area. He will then prepare the tooth the crown will be covering. Impressions will be taken and a temporary crown will be placed.
Dr. Pratt will send the impression to a dental lab, where highly skilled technicians, who are true artists, will craft the crown using advanced techniques and materials to ensure that your crown will look natural.
Approximately, 10 working days after your first appointment, Dr. Pratt will be ready to place your new crown. Once you have approved the look and feel of the new crown, it will be permanently cemented and with proper care it should serve you dependably for years.
Unlock a Beautiful Smile
When a patient is dealing with a compromised tooth due to root canal or trauma, a crown may be the perfect solution to restore their smile. Learn more about crowns today when an appointment is booked with Dr. Pratt. He looks forward to helping patients of all walks of life achieve their smile goals.
Get started today!
CONTACT US


Dental Crowns in North Central San Antonio, 78216, San Antonio TX | (210) 349-2120